On December 23, 1944, 24 year old Captain Lawrence Dickson flew his P-51D Mustang on a routine surveillance mission into Italy and crashed. He became one of the 27 Tuskegee Airmen (Red Tails) Missing in Action (MIA) in World War II. In spite of a post-war scouring of Europe for U.S. service members, it took 68 years to locate his crash site. His remains were excavated in August 2017 and identified 15 months later using advanced DNA techniques. This is indicative of how difficult it is to locate, excavate, and then identify missing service members.
Captain Lawrence Dickson (Wikimedia)
USS Oklahoma (BB 37) (Wikimedia)
On December 7, 1941, Japanese carrier-based aircraft launched a surprise attack on the U.S. Navy base and ships at Pearl Harbor, Hawaii. The USS Oklahoma (BB 37) was struck by multiple torpedoes, and the captain ordered the crew to abandon ship over the starboard side. Within minutes the ship capsized and sank. Those who escaped swam to the nearby battleship USS Maryland (BB-46) or manned smaller boats and helped pull the wounded out of the water. Rescuers were able to save thirty-two sailors by cutting holes into Oklahoma's side. Despite these heroic efforts, more than four-hundred fifty sailors and Marines aboard the Oklahoma perished in the attack.
Since World War I, 81,000 American service members have been Missing in Action. Approximately 34,000 of those were lost in deep water and are presumed to be unrecoverable. While recovery efforts had been undertaken for some time, it wasn't until 2015 that the Department of Defense formalized the effort and created an agency to handle MIA recoveries: DPAA (Defense POW/MIA Accounting Agency), located throughout the world, has three primary facilities – Hickam AFB in Hawaii, Dover AFB in Delaware and Offutt AFB in Nebraska. With 600 military and civilian employees, DPAA is currently working in 23 countries. DPAA leads our nation's efforts to locate, recover, and identify missing U.S. service members and civilians from past conflicts and bring closure to their families by conducting recovery missions at sites of past conflicts. The professionals of DPAA take great pride in its role to leave no service member behind.
In 2019, DPAA identified 209 MIA, beating 2018's 203 identifications. However, the relatively easy locations and identifications have been made – large battle sites, POW camps and their cemeteries, known crash sites, and more obvious locations have been investigated. Just last year, a service member was identified from a battle site in the Netherlands – proof that identifications can take a vast amount of time, well after remains are recovered. DPAA has a diverse array of highly skilled workers: historians study battles, genealogists study family histories, archeologists who are experts in careful excavation, and numerous scientists: pathologists, anthropologists, forensic biologists, DNA experts and more.
In 2018, North Korea returned 55 carefully prepared containers at the end of President Trump's visit.
These containers have so far yielded 60 identified service members. Dr. John Byrd, Lab Director for DPAA, and his teams have conducted numerous expeditions to North Korea where they are given access to battle sites - there are 7,800 US MIAs in Korea alone, with 5,300 of those in North Korea. As a result, the Republic of Korea recently awarded Dr. Byrd the Korean Order of National Security Merit for work done identifying Korean Missing in Action.
Dr. Byrd and his teams continue to scour the world in search of our fallen, but there is also work to be done in our own back yard. Punchbowl Cemetery in Hawaii has been the resting place for more than 200 unknown service members hastily buried after the attack on Pearl Harbor. The remains are only now being raised and identified – several recent identifications serve as an example of the work DPAA is undertaking at Punchbowl and on the ships at Pearl Harbor:
Fire Controlman Second Class Harold Frank Trapp, 24, and his younger brother William H. Trapp, 23, Navy Electrician's Mate 3rd Class, were among those lost with the Oklahoma. DPAA recently announced on Dec 01, 2020, that the two brothers were accounted for on Nov. 24, 2020.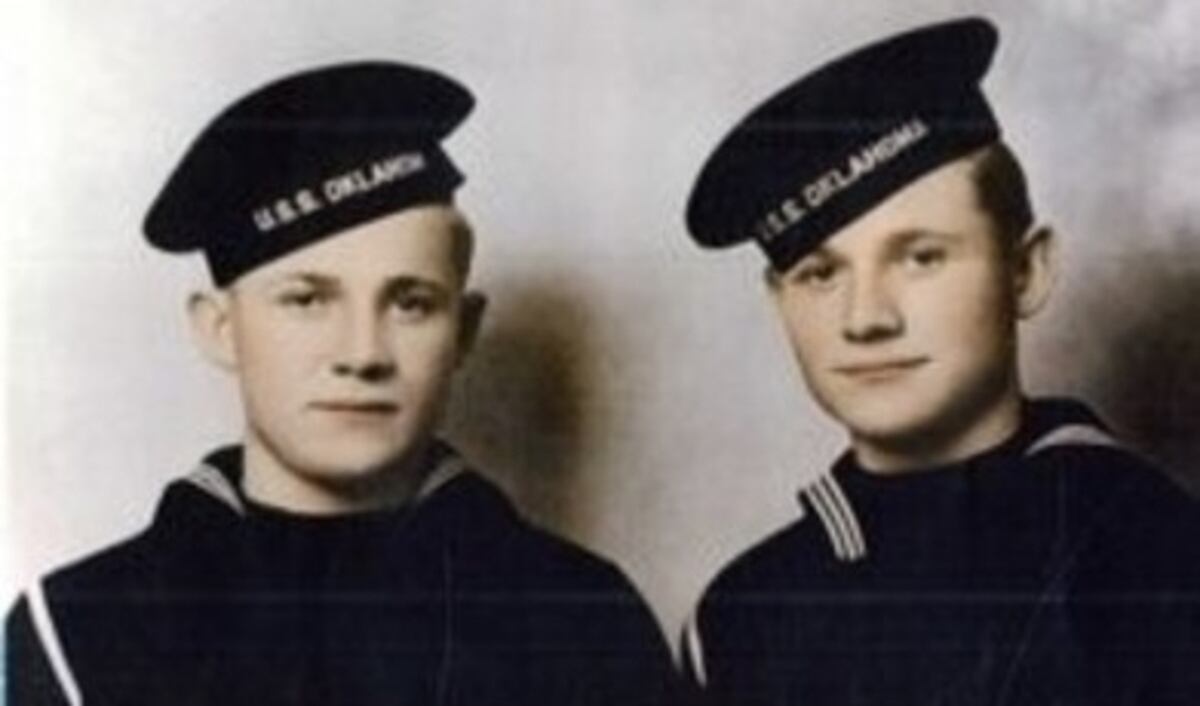 Leo and Rudolph Blitz (Defense POW/MIA Accounting Agency)
On August 10, 2019, thanks to DPAA, 20-year-old twin brothers who also served and died aboard the Oklahoma were laid to rest with military honors. Machinist's Mate 2nd Class Leo Blitz and Fireman 1st Class Rudolph Blitz enlisted in the U.S. Navy at 17 years old. Though they did so much together, the pair were not stationed near one another on the battleship, which, as a letter from one of their shipmates confirmed, played a part in their deaths. According to the letter, one brother refused to leave the ship when the order to evacuate was sounded. "I was with him and then he was gone. When they told us to evacuate, he said, "I'm not leaving without my brother," the letter recounted.
For decades, Betty Pitsch, Leo and Rudolph's 93-year-old sister, lived without knowing the location of her brothers' remains. Upon location, Betty's grandson stated, "This is a huge relief for Grandma. For her to finally know that the twins can rest their souls and have their remains brought home, that's really big for her". After resting in mass graves for decades, Leo and Rudolph's remains were brought home to Lincoln, Nebraska, where they finally held a proper burial.
At many battle sites – including entire Pacific islands – U.S. troops had to hastily bury their dead and move on. On one such island, Tarawa, a member of the DPAA team called History Flight had to move entire villages that had been erected over the Marines' graveyards, spread throughout the island. The remains of these brave men are laid out in the Hawaii DPAA laboratories where one large lab is devoted to Tarawa alone - clean, serene and back on American soil. Once an identification is made, a next of kin is notified; sometimes, there is no family to notify.
In the south and central Pacific, DPAA's mission is challenging due to the moist, humid weather. And, while World War II and Korea saw large formation battles, Vietnam has many small units scattered throughout the country – and Laos and Cambodia. One such site in Laos can be seen below.
Members of the Defense POW/MIA Accounting Agency (DPAA) dig in the difficult conditions of a rice paddy while conducting an excavation in Laos, Nov. 12, 2018. The mission of DPAA is to provide the fullest possible accounting of our missing personnel to their families and the nation. (U.S. Air Force photo by SSgt Matthew J. Bruch)
Shallow water recoveries have been increasing recently. As sands shift over the years, more aircraft and ships have been uncovered. Given that World War II ended 75 years ago, these submerged remains are difficult to identify. Here remains are being recovered off the island of Palau.
Navy Diver 1st Class James Ward, assigned to Mobile Diving and Salvage Company ONE-SIX, embarked aboard USNS Salvor (T-ARS 52) guides a salvage basket during a Defense POW/MIA Accounting Agency led underwater recovery operation searching for personnel off the coast of Koror, Palau, Jan. 30, 2018, as he searches for personnel who went missing during WWII. DPAA conducts global search, recovery and laboratory operations to provide the fullest possible accounting for our missing personnel to their families and the nation. (U.S. Navy photo by MC2 Tyler Thompson)
Traditionally, DPAA has used DNA analysis plotted against known family members' DNA. However, where substantially degraded remains are found, or where there are mixed remains of many people, DPAA has had to develop new methods of identification. In one new process, DPAA uses an ion mass spectrometer to determine trace elements that can provide clues to the origins of the tiniest fragment. For instance, Americans eat more corn than other nationalities and, if certain trace elements of corn's [DNA] show up, DPAA can assume the bone is from an American, thereby encouraging them to proceed with more DNA testing. DPAA attempts to identify the remains of non-Americans as well.
DPAA conducts updates up to eight times a year and at two annual government briefings for families of American service members who are Missing in Action. These events are designed to keep family members informed of the U.S. government's worldwide mission accounting for those still missing and to discuss in detail the latest information available about their specific cases.
At the annual and monthly update meetings, speakers include senior officials, experts, and scientists who work in the wide range of tasks associated with the POW/MIA mission. During the meetings, there are formal presentations, question and answer sessions, and one-on-one discussions between government officials and family members. DoD has conducted these update programs since 1995 and has reached more than 17,000 family members face-to-face.
The men and women of DPAA are dedicated to their mission. Their laboratories around the world are hushed, spotless shrines to the service members that are making one last stop before going home. DPAA personnel travel through jungles, mountains, lakes, rivers, and seas in a quest to bring American MIA home. It is a tough, emotional calling that has yielded exceptional results. And, while the remains are going to be harder to locate, the mission appears even more critical to the men and women of DPAA. This tight-knit unit of subject matter experts are up to the challenge that sets America apart – no one is left behind.
---
Christopher D. Brady is a partner at Chart National.